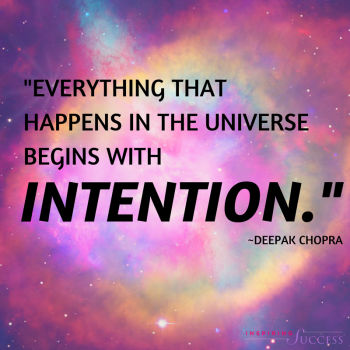 Setting an intention harnesses the magic of the Universe. When it delivers, you are awakened to the fact that you have power to create your life; it moves you from being a victim to a victor. It paves the way for the experiences you want because the Universe shapes itself according to your language—your word is your wand. YOU get a say in how you want any situation to unfold. And life just becomes more fun and miraculous.
This 3rd key practice follows the first two. After I meditate (Practice #1) and write in my gratitude journal (Practice #2), I write down my intentions for the day… and I also do this throughout the day whenever I am transitioning to something new.
Before you move into a new situation (starting work, going into a meeting, exercising, spending quality time with someone, entering a social situation, etc.), take a moment to close your eyes, be still and connect with your center.  Then state your intention by writing down specifically what you want to accomplish.
Maybe you want a contract with one new client, or exercise for a certain amount of time or distance, or to make a certain amount of income, or let go and laugh. Whatever it is, you'll find the desired outcome happening with ease just by stating it. Establish the habit of setting your intentions and you'll realize that YOU are the source of your experiences and the creator of all aspects of your life.
Here's a simple way to begin to practice intention-setting: Take a look at your daily to-do list and decide how much time you're going to spend on each item. Set the timer and notice how much you're able to accomplish when your mind and actions are aligned with your intentions.
So… what are your intentions for today? I'd love to hear from you in the comments!
xoxo,
Rita
---